Published: December 20, 2019
Seabridge Gold Corp. Dec. 17 said deep penetrating geophysics has identified four additional porphyry targets at its already world-class gold-copper project in British Columbia's Golden Triangle.
The four deposits already identified at KSM – Kerr, Sulphurets, Mitchell and Iron Cap – host 2.98 billion metric tons of measured and indicated resources averaging 0.52 grams per metric ton (49.7 million ounces) gold, 0.21 percent (13.9 billion pounds) copper, 2.8 g/t (265 million oz) silver and 54 parts per million (312 million lb) molybdenum; plus 4.56 billion metric tons of inferred resource averaging 0.38 g/t (56.3 million oz) gold, 0.32 percent (32 billion lb) copper, 2.4 g/t (349 million oz) silver and 32 ppm (295 million lb) molybdenum.
The four deposits in this enormous resource all come to the surface due to the erosional margin of the Sulphurets Thrust Fault at KSM.
This year, Seabridge carried out Z-Tipper Axis Electromagnetic (ZTEM) surveys and 3D induced polarization (IP) surveys to evaluate the potential for additional gold-copper porphyry systems below the thrust fault.
Data was integrated into a digital 3D Earth model by Mira Geoscience.
This work has identified four prospects with signatures matching the established deposits where reserves and resources have been delineated. Unlike the known surface deposits, however, these new targets are under the Sulphurets thrust fault and blind from surface.
These results are now being integrated with historical magnetotelluric (MT) surveys, airborne high-resolution magnetic surveys, bore hole geophysical surveys and geological mapping. Geophysical profiles indicate that these targets can be tested from surface but would likely be evaluated as bulk underground opportunities.
Considering that KSM already has enough reserves to produce an average of 540,000 oz gold, 156 million lb copper, 2.2 million oz silver, and 1.2 million lb molybdenum annually for 53 years from the surface deposits, adding additional deep resources is not a priority for Seabridge.
"These are not targets we intend to drill any time soon. "We had three objectives: first, use our extensive array of knowledge accumulated over the past decade to demonstrate that we have not exhausted the exploration potential for KSM; second, assess the exploration potential of areas currently proposed (for) project infrastructure; and third, better define the characterization of waste materials," said Seabridge Gold Chairman and CEO Rudi Fronk. "We believe these new targets could contribute to the multi-generational life of the KSM Mining District while the data we generated also provides insights to help optimize site development. We think this data will be valuable to a joint venture partner."
In addition to the geophysical program to confirm deep exploration targets, the 2019 program at KSM included 6,121 meters of exploration drilling in 26 drill holes at the margins of the Sulphurets deposit.
One hole drilled in this area last year, S-18-81, encountered a bonanza grade intercept of two meters averaging 1,580 g/t gold (nearly 51 oz per metric ton) and 209 g/t silver. The next hole, S-18-82, cut 12.2 meters of 5.83 g/t gold and 7.2 g/t silver, and 3.95 meters of 18.5 g/t gold and 30.6 g/t silver about 500 meters to the southwest.
This year's drilling targeted epithermal occurrences that are within the proposed open pit for Sulphurets but not captured in the existing deposit resource model for this deposit. Of these 26 holes drilled along a roughly 750-meter area, 24 cut intercepts with more than 1 g/t gold. Highlights from this drill include:
1.5 meters of 6.01 g/t gold and 5 g/t silver from a depth of 127 meters in hole S-19-87;
1.8 meters of 5.17 g/t gold and 5.8 g/t silver from 138 meters in S-19-89;
1.5 meters of 7.34 g/t gold and 10.3 g/t silver from 33 meters in S-19-93;
1.5 meters of 9.42 g/t gold and 7.1 g/t silver from 53.5 meters in S-19-94;
1.3 meters of 10.25 g/t gold and 12.2 g/t silver from 156.7 meters in S-19-97;
2.5 meters of 6.48 g/t gold and 2.3 g/t silver from 18.8 meters in S-19-103;
1.6 meters of 7.27 g/t gold and 8.1 g/t silver from 66.8 meters in S-19-103; and
1.6 meters of 9.36 g/t gold and 2.8 g/t silver from 112.4 meters in S-19-110.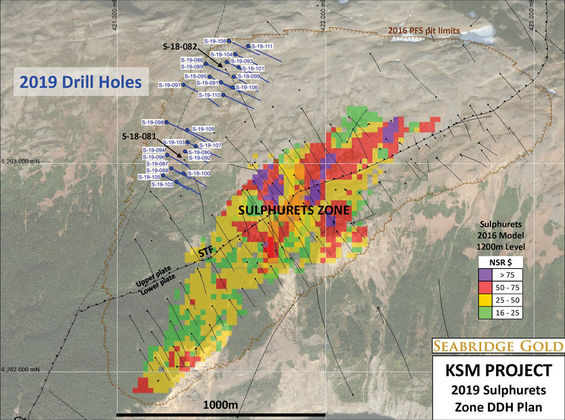 The Sulphurets resource was last updated in 2012. Since then, 10 holes completed prior to 2019 extended the deposit to the north, west and at depth. The results from this previous work, along with the 26 holes drilled this year will be incorporated into an updated resource and technical report scheduled for completion in early 2020.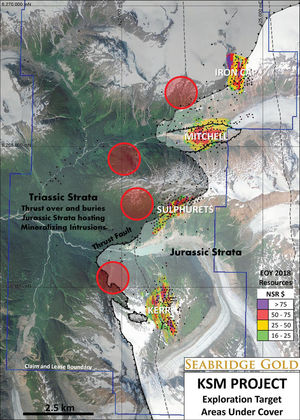 –SHANE LASLEY
For the full article click here.